At iGrad, we're constantly rolling out new features and improvements to our suite of financial literacy products for colleges. Every three weeks, our agile development product team releases new updates; here's a few you may have missed.
1) Shareable badges and the new badge trophy case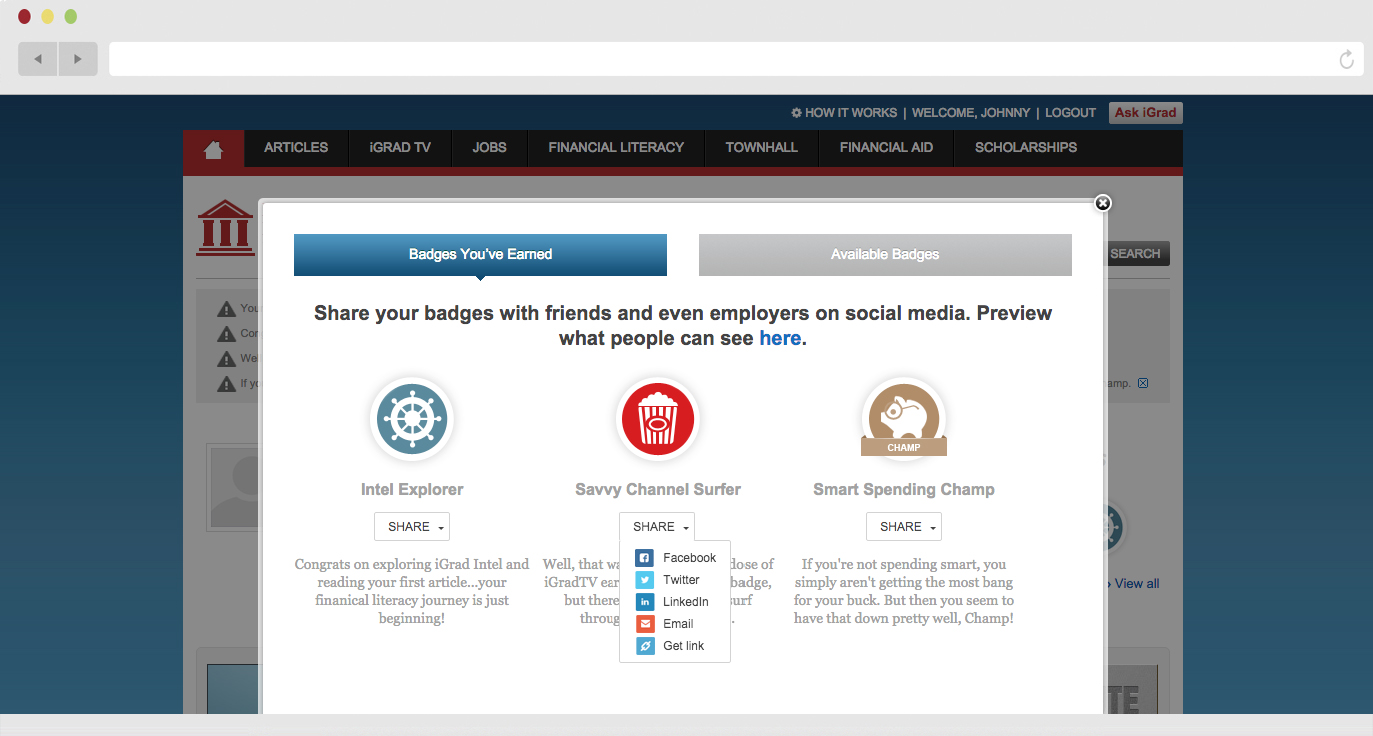 The iGrad Platform is an entirely gamified financial literacy experience. Students and school administrators alike earn badges as they take personal finance courses, watch videos, and interact with our money, student loan, and career resources. Now, users can easily share their badges across social media, including on LinkedIn, where they can verify to future employers their financial literacy, a hot button for many companies these days. Users also have a "trophy case" where they can publicly display all of their iGrad badges. Some of our school partners are running successful contests and campaigns where students can exchange their iGrad badges for classroom credit or real-world prizes.
2) Push custom school content to your school's branded iGrad Platform
At iGrad, our team of financial literacy experts are posting new articles, videos, infographics, and other resources to our Platform on a daily basis. Many of our school partners asked us for the ability to post their own custom content, alongside our daily financial literacy content – and we delivered. If your school has a video, article or other resource you'd like to be made available on iGrad – only for your students – reach out to our friendly customer success team. Examples of how some schools are leveraging this feature include a monthly article guest-authored by team members at one school's financial aid office and a video welcome from the President of a university explaining their commitment to financial literacy.
3) iGrad's monthly challenge and $250 giveaway for students

iGrad's monthly challenge is an opportunity for students to learn more about a key financial topic while entering into a drawing to win $250 - every month! Here's some of the key points to know:
To enter, a student must be a current or former student at an iGrad partner school
Students may only enter the contest once per month
Students will need to answer two "challenge questions" in the contest correctly in order to be eligible to win the $250
Each month's challenge revolves around a behavioral finance topic, like "emotional spending," and students are asked about how the learning moment may impact their behavior, giving school partners new insights. iGrad's monthly challenge is available on an opt-in basis to all iGrad partner schools.
If your school has not currently partnered with iGrad
, you can
request a demo
with one of our friendly team members.
| | |
| --- | --- |
| | Dan leads iGrad's Product Team, building iGrad's suite of personal finance, student loan, and career web products and services. Since joining iGrad in 2011, Dan has leveraged his expertise in user experience, visual design, and agile development to help iGrad's users achieve their financial dreams in intuitive ways. A graduate of the University of Rhode Island's Honors Program in Philosophy, Dan can be found stumping for Tom Brady's greatness or playing awkward Bright Eyes records, when not strategizing about iGrad's future. |
| | |
| --- | --- |
| Dan Goniprow | |
| Product Manager | |