At iGrad, we think about financial literacy in a holistic sense. We see the life decisions we all make, whether it's a money management, career, student loan, or education decision, as interconnected and integral to our financial well-being. So when our school partners and student users asked us for help connecting students with scholarships, we saw it as a no-brainer addition to our holistic financial literacy package. Don't believe us that students are actually asking for scholarship help? "Scholarships and money for school" is the 2nd most popular category in the iGrad article section (of 30 total categories), behind only "budgeting." And when users search for financial literacy content on iGrad, "scholarship(s)" is the #3 most popular keyword searched for, behind only "financial" and "credit." In this piece, we'll pull back the curtain and walk you through the development of our customizable scholarship search engine, which we feel is the fastest and easiest way to find scholarships.
Building A School-First, Student-First Scholarship Engine
Before our product team set out to build a scholarship search engine on our financial literacy platform, we talked with school administrators, financial aid officers, and college students. We were troubled by their experience with the existing scholarship search providers they had used before. These concerns were only amplified by our research and competitive analysis. We found that many scholarship search providers offer a large, but dangerous scholarship database, filled with scholarships that are little more than advertisements, sweepstakes, or opportunities to capture and sell student information.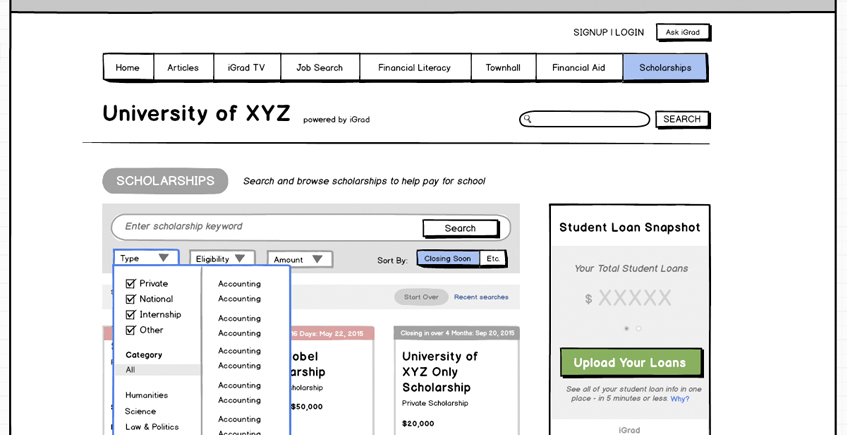 An early wireframe of the scholarship search filtering UI
So, while we began to sketch out our wireframes and consider user experience, we also wrote a short manifesto - our quality scholarship promise - which would serve as a rigorous litmus test each scholarship in our search engine must pass. For example, you'll never see scholarships that advertise for enrollment at a school or require a student to pay an application fee in our search engine. Our database is growing every day and currently includes over 2,300 scholarship awards totaling over $10.8 million. Our scholarship editors, are constantly grooming and adding scholarships to our database to ensure scholarships are quality, up to date, and compliant with the standards of our students and our partner schools.
Creating The Fastest And Easiest Way To Search For Scholarships Online
Many scholarship search providers require users to go through a lengthy sign up process, often capturing unnecessary and sensitive student data, before they even present one scholarship to the user. The scholarship matching services we analyzed take even more time to set up and often deliver a short list of disappointing results. So, during our prototyping stage, we designed the user experience around a few core principles:
No lengthy signup
Complete access to all scholarships – right away
Search the entire database in one click
Just the right amount of personalization and filtering to deliver relevant results – fast!
We're continuing to user test to refine our filtering options to ensure that searching for scholarships on iGrad is lightning fast, but still substantial enough to quickly dismiss non-relevant scholarships.
Customizing Scholarship Search For Each School Partner
We work with institutions of all types, from Ivy League schools to graduate schools to career training schools. After talking with our school administrator partners it became clear that our scholarship search engine had to be adaptable not only on the student level, but on the school level as well. The primary goal of our school partners was to ensure that scholarships that are not eligible for their institution are automatically filtered out. For this reason, we created an admin tool that allows schools to default filters to their school type, filtering out scholarships that don't apply to their school type or enrollment status.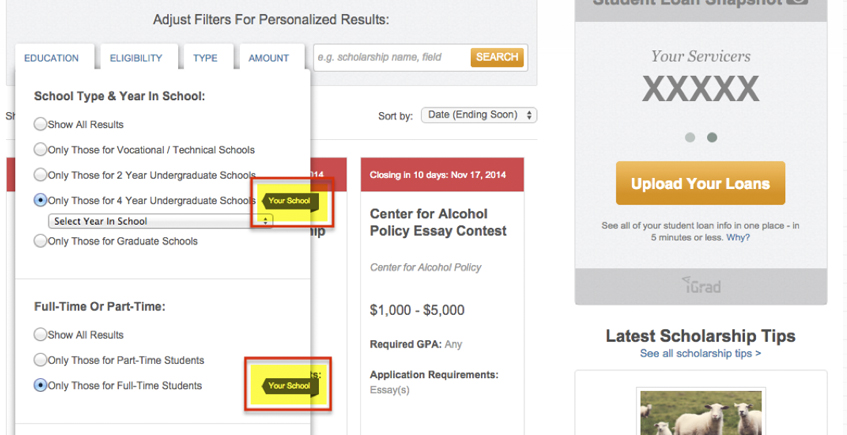 Customizable filter presets for school administrators
Many of our school partners also offer scholarships that are only eligible for their students. For this reason, we created an admin tool that allows schools to easily add their own scholarships to our database. School partners have the option of making these scholarships available to all iGrad users or only featuring them on their cobranded iGrad site for their students.
Educating Students About Scholarship Best Practices
At the core, iGrad is an education platform - empowering students with the knowledge and behavioral skills to tackle personal finance, higher education and career decision making. We knew that if we built a scholarship search engine it had to be seamlessly integrated with resources that could educate students about how to optimize their search and application process. Our scholarship search center now includes a video-based scholarship module, featuring:
20 minute, interactive, video-based scholarship content
Improves capability on core scholarship search skills, such as understanding the value of scholarships and how to receive recommendations
Back-end reporting: we're able to report completion rates, knowledge gain, and survey data from the module to our school partners
We have also developed a Scholarship eBook and routinely post the latest scholarship tip articles, infographics and videos to our scholarship search engine.
How Can You Access iGrad's Scholarship Search Center?
Our robust scholarship package is now available on the iGrad Platform as an additional, premium service. If your school has not currently partnered with iGrad, you can request a demo with one of our friendly team members. If you are a current iGrad partner, please contact our customer success team for a demo.
| | |
| --- | --- |
| | Dan leads iGrad's Product Team, building iGrad's suite of personal finance, student loan, and career web products and services. Sine joining iGrad in 2011, Dan has leveraged his expertise in user experience, visual design, and agile development to help iGrad's users achieve their financial dreams in intuitive ways. A graduate of the University of Rhode Island's Honors Program in Philosophy, Dan can be found stumping for Tom Brady's greatness or playing awkward Bright Eyes records, when not strategizing about iGrad's future. |
| | |
| --- | --- |
| Dan Goniprow | |
| Product Manager | |